Hi [subscriber:firstname | default:subscriber],


It's Friday! Some of the features came out already last week but as I couldn't write newsletter back then we will count them as new features anyway!


There is also something new with OCI Start Page, check the features section!


From my side the biggest step forward is OCI Private DNS, I've done already few blog posts on it and will demonstrate how it works in one of my upcoming OCI streams as well. I'll be talking about Transit Networking and showing how you can build it today, at 9am Eastern / 3pm CET on my live stream.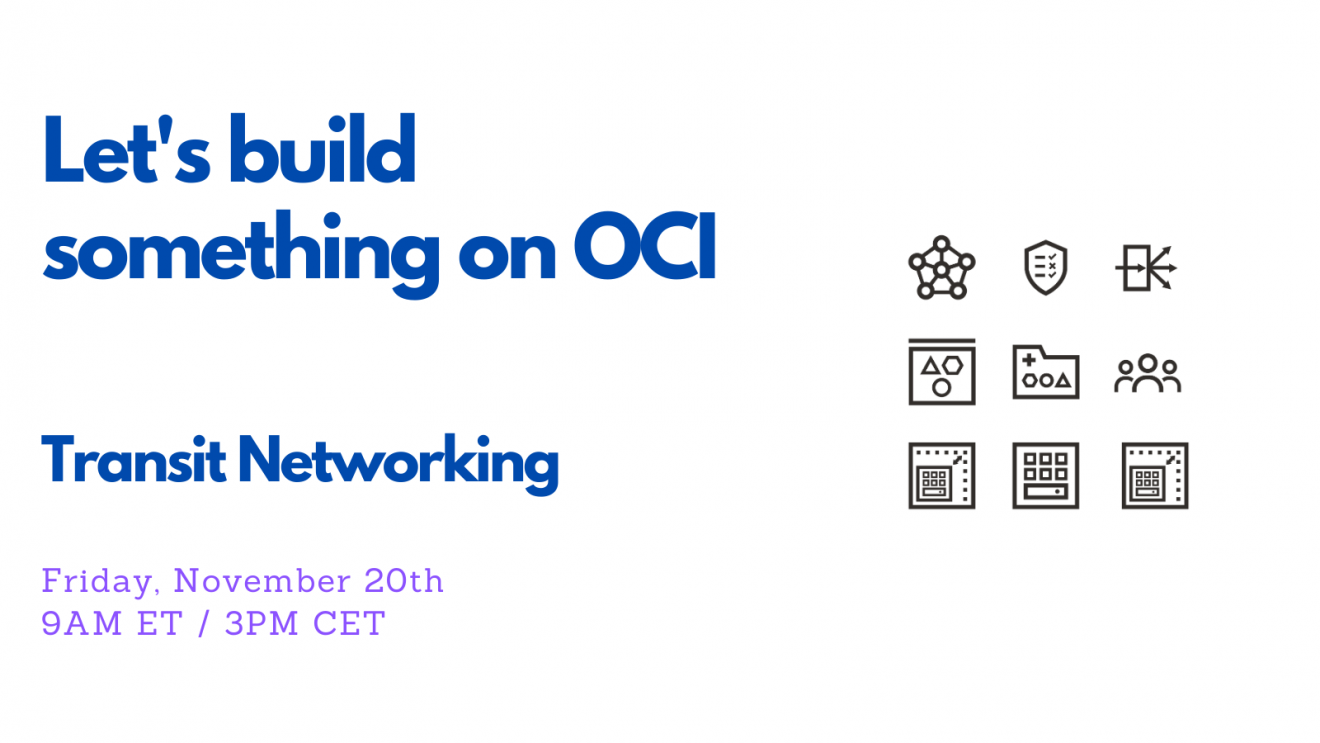 New Features
Private DNS is here! Now you can consider getting rid of those Custom DNS forwarders and see if OCI's new feature helps you to setup required DNS easier compared to what it was. Read also about Private DNS resolvers from the documentation so you cover what steps are needed on VCN resolver.


There are few posts about it already. Oracle's A-Team has a post on setup.


I did few posts as well, part 1 goes deeper on the Views and Zones and what you need to do with them.


Part 2 is about setting up DNS between two VCNs and discovery how you can utilize a single Private View in multiple VCN's.
Did you make your VCN too small or is someone sending you multiple emails a day that your /16 is way too big? Modifiable network components have been released. I welcome this change! Even though you do some planning there is always some VCN which requires extension.
You can now use Console or API to update your Bare Metal or VM Databases to 19c. There are some pre-requisites in order for it to work. But read about it here. I'm interested on this in the long run how much people will start using this approach vs doing it manually!


Visibility and control is one thing which probably is still stopping on using it for many of us.
There is new tab for Dashboard after you've logged to Console which I think is super cool. Can we just make it the default one? Using OCI daily and I still haven't used any of the links on the Get Started page. I've already started!


Overview is excellent with resources, something what comes handy every now and then.
Bring your own IP now supports OCI Load Balancer. I'd suggest reading the whole documentation what they have, it's something I hadn't noticed yet that it's out there!
Blogs & News
Remember
Contact me via Twitter @svilmune or just send an email if you have any ideas, comments or if you see I'm missing some good source for the weekly news.


I'm not in partnership with Oracle in any way so all opinions are my personal views and should not be taken as an official statement from Oracle.


You can unsubscribe at any time using the link below if you feel this newsletter is not for you.


Have an awesome day, thanks for reading!